Dispatch from Herr General Elector Count Nicholas von Lemmingsdorf to her Serene Imperial Highness the Empress of Austria, as dictated to 2nd Leutnant you there whatever your name is.
The Count having a smoke before breakfast. Note the small dog dressed as the French ambassador to the right.
Fill in all the usual guff, you know the drill, most august aunt etc. Fetch me some breakfast too when you've done with this. I think we still have plenty of horsemeat left over from destroying that other army, who were they again? Anyway, back to this letter. Yes, three sugars please.
Where were we? Oh yes. I am writing to you from the battlefield of what's the name of this place again? Standenfeuer? Is that where we are? I thought this was Kochwald or something? This isn't the capital? I wouldn't have thought they'd have ranked higher than a mere village as their capital, they fight like villagers after all.
Anyway. I write to you from the battlefield of Standenfeuer, where our incursion into foreign territory has led to great reward. I don't suppose we managed to liberate any decent drink while we sacked the place did we? Could do with a tipple. Hrm? A case of French wine and a small keg of the local ale? Better be the ale, you know how piss-poor French wine is.
So, after defending our borders ably for the past few seasons, I decided to take the fight to the enemy, and launched an invasion of the nearby Lichtenbalz am Kochwald, which I am reliably informed, huh, reliably, it came from that upstart Baron Hoffling, didn't it? I wouldn't call him reliable. Unless you're relying on him to arse things up. Anyway, I am reliably informed that they somehow border our territory, though I'd never heard of them before. We came across the enemy encamped at some place or other, what's the name again? Ah, yes, Standenfeuer. We saw they had quite the artillery battery, so we sent that dreadful little man Alain de Finay, you remember the one, Frenchie, about as useful as...well, as a Frenchman, really. Managed to do the job this time though, without even falling off his horse either. Destroyed most of the enemy guns then sat on his arse as usual bragging about his great victory. Just like the French.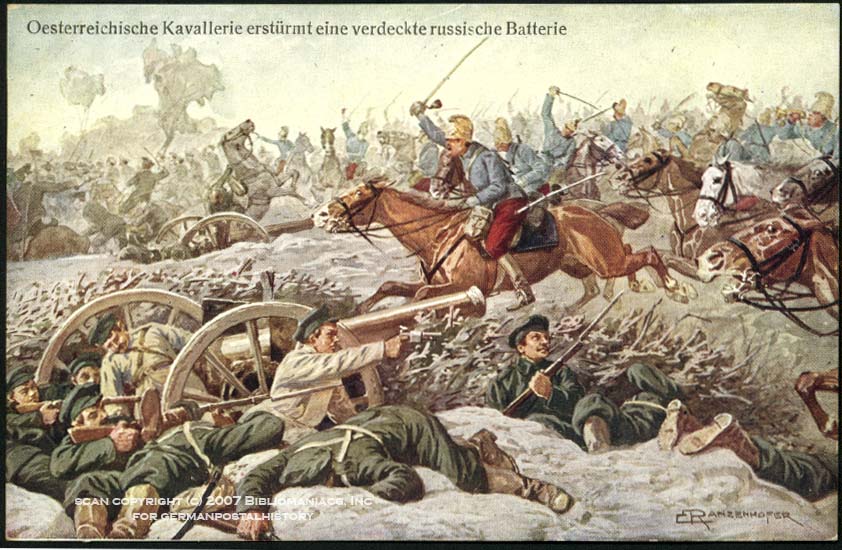 That Finay chappie charging the enemy guns. They don't like it up 'em!
With the enemy guns out of the way, we ordered a general march forwards to battle. The Kochwaldern stood there and waited for us, the fear apparent in their ranks. I thought at one point we'd have to climb over barricades erected of their own excrement to fight them, they were that scared. Anyway, we eventually got within shooting range and passed a few hours of the old back and forth, we shot some of theirs, they shot some of ours, then we reformed the lines and had another go, the usual thing in these civilised wars. Eventually, getting bored of all this, I sent in the lads with bayonets fixed, but that didn't go entirely as planned, though it did open up a few holes in their ranks. Shame about our grenadiers going walkabout after that though, thought they had more steel in 'em. Some of 'em had a fair bit of enemy steel in 'em mind after that.
That rather ill-advised bayonet charge
Anyway, back to the battle. Having disorganised the enemy, we then proceeded to shoot the holy crap out of them. Our superior numbers and morale did the deed, and a half-arsed attempt at a counter-charge by them messed them up enough for us to destroy them utterly. We noted with glee that at the end of the battle, only one unit of infantry and two units of cavalry survived on their side, while we had but three units of infantry succumb to the enemy's fire.
The Kochwaldern fleeing the town.
A great victory, one which our school children will learn for centuries to come, and on this showing, the Kochwaldern children will also be learning of our great victory in our schools when we annex their territory. This war cannot last much longer, we intend to invade another of our enemies soonest chance we get. It's been a while since we've annihilated the French and I could so with a summer home near Marseilles...
Sign it your obedient nephew etc. Now, where's that breakfast?